09-02-08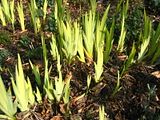 At the beginning of April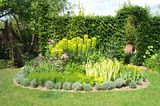 At the end of April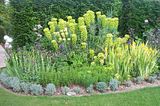 Flowering at the end of May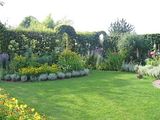 As you can notice the leaves became light green
Iris Pseudacorus"Bastardi", Yellow Flag,

Iris des marais "Variegata", gele lis
The variegated form of the wild yellow flag which produces golden flowers in early summer..

It is less invasive than the self-seeding plain green form.

The leaves become green in summer.
I often use the leaves for my flower decorations (weaving).

It will grow in the margins of a pool or in a moist or wet soil.
Propagation : an old overgrown clump will benefit of being lifted and divided and in that way you increase your plants.
22:16 Gepost door Lieve in Some of our perenials | Permalink | Commentaren (0) | Tags: iris pseudacorus bastardi, yellow flag |
Facebook |